Now is the time to register for Innovation in Action! Workshops are filling up fast!
Find the report & presentations at the bottom.
Telling stories has been part of us since the beginning of time. One of the most important stories you have is your corporate history and vision. This will impact on your success.
A story isn't always a timeline, it's a gathering of moments, lessons learned, motivation, frustration, and success.
It might not come easy to tell stories, but as with any tool, with practice it can both make and brake what you do.
When people invest in you – they are investing in your story. How people perceive your story will influence how they will interact and be your ambassadors into the future.
Once you're able to convincingly deliver a story that reaches the Amygdala part of the brain , you will be able to connect in a way that growth charts and hockey sticks never will.
Effective storytelling captures the hearts and minds of your target audience.  It makes your innovations stand out above the rest.
During this workshop day we were taken on a historical trip from 1883 where Alfa Laval has its roots to where they are today and into the future.
If Alfa Laval is committed to win instead of playing not to lose, how do they create the best possible conditions for the next products or business models by using story telling.
We set out to find how you can implement the same strategy in your own organization.
Participants had the opportunity to share their point of view and were given insights and methods to bring home.
Our host Peter Thorwid of Alfa Laval comments the day: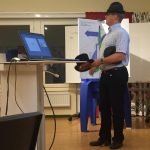 "The story telling workshop became very successful from Alfa Laval's horizon. The final presentations, six well-known stories about The New Alfa Disc, all six will be useful. They can be used as good and less good examples of storytelling techniques, but also in continued work with performance-related innovations within Alfa Laval's product groups, not just for the Separators.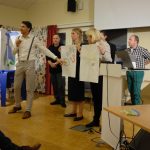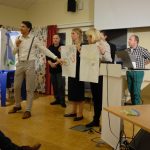 The involvement of the participants was particularly exciting to see, perhaps the fantastic framing of Hamra Gård contributed to this. Imagine getting together in the same building as the best R & D cows in the world, both eyesight and scent touched us. The visits in the other barns were also very rewarding.
We were able to showcase some of Swedens industrial history, DeLavals Hamra Farm with Alfa Laval's Separator Technique. Only that is a story in itself.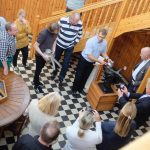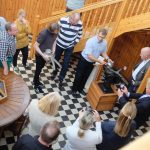 Now I look forward to Innovation in Action where we will meet again in sharing knowledge and insights. Have you registered your participation?"
// Peter Thorwid
One of Innovation Pioneers firm beliefs and core values is that innovation is driven by diversity. We aim to have a balance of gender, origin and various industries and organisational forms represented at our meetings.
Storytelling by Bengt Järrehult at Alfa Laval
Storytelling Innovation Pioneers at Alfa Laval Report
AlfaWall PresentationAlfdex Presentation
AlfaWall Presentation
Partner content from Innovation Leader. Why Lowes Innovation Lab hired sci fi writers to guide its strategy. Find how to get two weeks of complimentary Innovation Leader content here.
12 Sep, 2017 - 13:45-22
Initiators Only –  Initiator board meeting.
13 Sep, 2017 - 08:25-16:15
Initiators and active members  – Workshop day – Tank meeting
Location:
Loftet, Hamra Gård, De Laval.
Start of day at Alfa Laval 08:45
Accommodation: Alfa Laval recommends Prince Philip (Oxholmsgränd 2, Skärholmen, 08-6802500) which is 550 meters from subway Skärholmen.