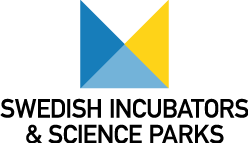 Innovation Pioneers and Swedish Incubators & Science Parks (SISP) is partnering up with a mission to build tighter bonds between Sweden's established organizations, startups and scaleups – starting with business matchmaking.
About SISP
Being the home of more than 5000 innovative companies and the local hotspots for entrepreneurs, academia and industry, SISP's 77 member organizations accelerate economic and societal growth in Sweden through world-class business development and networks.
Swedish Incubators & Science Parks is developing the world's most efficient innovation ecosystem by adding connectivity between our members and Sweden's leading universities, corporations, public organizations, customer and exit markets.
Find out more at innovateinsweden.se @sisp

Innovationsledarna is an association for innovation management professionals with a focus on promoting the profession and discipline of innovation management, founded in 2013.
We are a non-profit association driving common issues for innovation management professionals in all kinds of companies and organizations in Sweden. Professionals responsible for, or actively contributing to, leading and organizing of innovation efforts and increased innovation capability in a company or an organization.
The purpose of the association is to develop the innovation management profession, to establish innovation management as an organizational discipline and to support professional development of members.

Innovation Pioneers is pleased to partner with Innovation Leader during 2017 to offer our members two weeks of complimentary access to Innovation Leader's online content, as well as a discount on individual or corporate memberships. This with the purpose of sharing additional views and to build a deeper knowledge on topics we address.
To get access to the trial, please e-mail frank@innovationleader.com and mention that you are a member of Innovation Pioneers.
Innovation Leader is an information service for corporate innovation executives, including those in research and development, strategy, marketing, new product, and technology roles. We are relentlessly focused on providing research, tools, tactics, strategies, and networking for innovation leaders at large corporations to help them achieve impact.