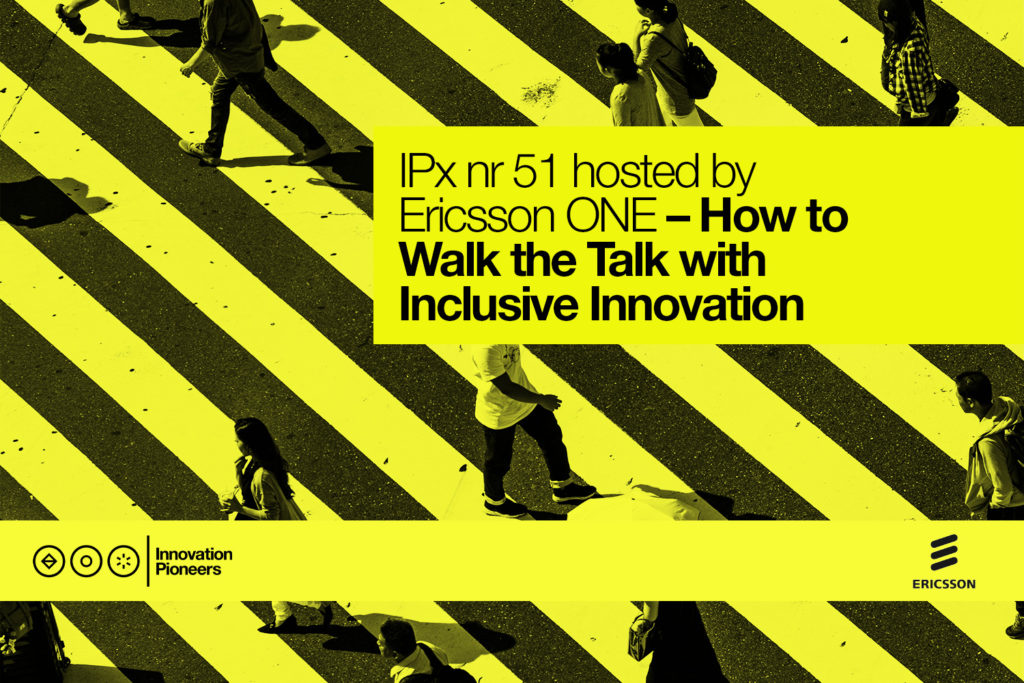 IPx nr 51 (digital tankmeeting) with Ericsson ONE 
This session is only available for Initiators & Members of Innovation Pioneers 
Date: 15th of September
Time: 09.30 – 12.00
Digital session: Presentations and facilitation hosted by Ericsson ONE and co-facilitated by The Social Few
How to Walk the Talk with Inclusive Innovation
As we return to work and continue to navigate COVID-19, this is the time to take hold of the "New Normal" and shape it to be inclusive at its core. How can we turn ideas and values into actions and impact? How do we measure success and create a sustainable strategy for inclusive innovation? Which perspectives need to be a part of the process to ensure progress? In this IPx session, we will explore these questions and ideate clear action plans to catalyze these efforts within our own organizations.
Innovation requires the capacity to think differently: to see more than one way to solve the same problem. And for any team to be innovative, it needs to be inclusive. Our experiences, in life and work, shape the perspectives with which we see the world. How we understand people, challenges, opportunities, and impact. These diverse perspectives are essential to challenge the status quo and create space for new ideas to flourish.
Inclusive innovation is easy to talk about and harder to do. But it is doable and absolutely essential.
A note on attendees: Inclusive innovation permeates every part of an organization—from HR to marketing, data science to design. To enrich our conversations and ensure the greatest reach, we are asking Members to each invite one additional team member from their organization. This may be someone new to Innovation Pioneers, who bring a new and needed perspective.
About Ericsson ONE
At Ericsson ONE we create game-changing businesses by unlocking intrapreneurs and innovators, shaping the future together. There are hundreds if not thousands of great ideas just waiting to be unlocked, together we can shape the future of Ericsson and change the world for the better. To succeed, we must unleash our intrapreneurial power – Ericsson ONE was founded to do just that.
With a team of 30+ people in 3 hubs across the world we support intrapreneurs all over the globe to build new businesses and ventures. At any given moment we have 30-40 projects from early validation to late-stage acceleration & scaling.
About The Social Few
The Social Few is a leading diversity management agency in the Nordics, enabling sustainable growth combining data-driven insights, inclusive infrastructures, marketing communications, and tech. We believe that impact is made by inclusion through direct dialogues. With a blend of data-driven and a social-first approach, we reach and activate the largest minority groups enabling direct dialogues with fast-growing communities – from both a population and a consumer perspective. Join our movement on thesocialfew.com
Contacts from hosts:
Louise Hultén – Ericsson ONE,  louise.hulten@ericsson.com
Susanne Fuglsang – Innovation Pioneers, susanne.fuglsang@innovationpioneers.net