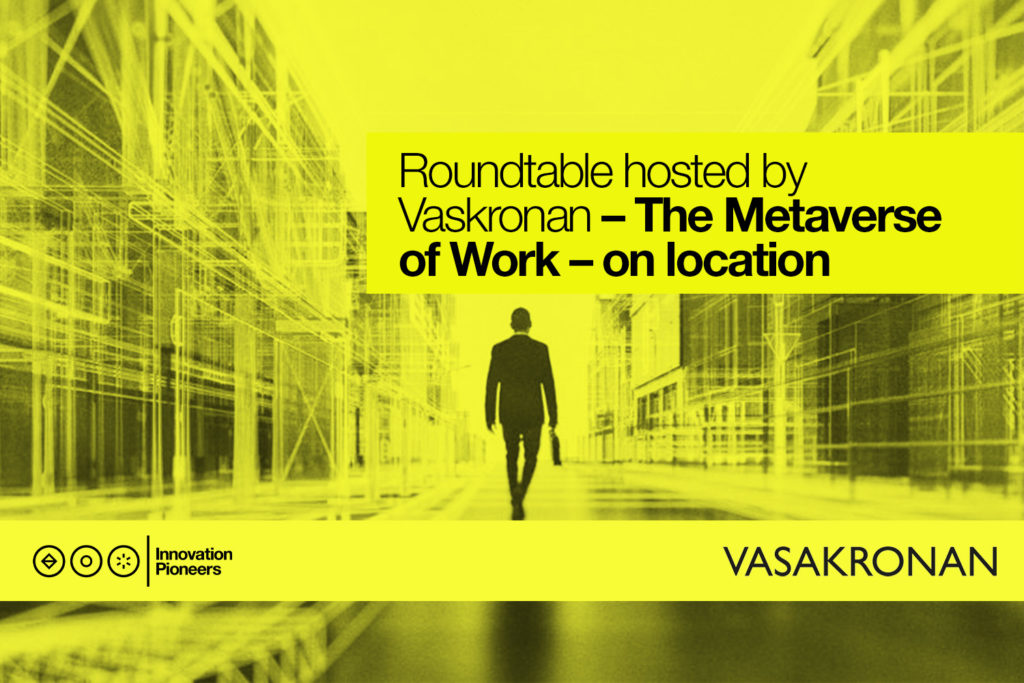 CORONA GUIDELINES FOR THE EVENT: 
Limited seats – 20 participants – 1 guaranteed seat per company (2 if possible)

Stay home if you feel any Covid-19 related symptoms

Keep a safe distance

Wash your hands 

Let us know if you have any special requirement to feel safe
ROUND TABLE – ON LOCATION  – Initiators Only
Date: 22nd of September 2021
Time: 15.00 – 20.00
Venue: Arena Sergel, Malmskillnadsgatan 36
Host: Vasakronan & Innovation Pioneers
THE METAVERSE OF WORK
Background:
In June 2021 Mark Zuckerberg explained to his employees why Facebook is becoming a metaverse company. The future of the company would go far beyond its current project of building a set of connected social apps and some hardware to support them. Instead, he said, Facebook would strive to build a maximalist, interconnected set of experiences straight out of sci-fi — a world known as the metaverse.
Listen to a interview with Mark Zuckerberg on Facebooks metaverse here at The Vergecast
The Metaverse was coined in Snow Crash, Neal Stephenson's 1992 sci-fi novel and refers to a convergence of physical, augmented, and virtual reality in a shared online space. A more recent and stellar example is found in Steven Spielberg's "Ready Player One" from 2018.
Program:
Henrik Eriksson at Vasakronan and his collaborators invites you to a round table on how this vision can be applied on The Metaverse of Work.
You will take part in a presentation of an ongoing prototype/case for the "3rd workplace" and have the opportunity to explore, learn and give input in a workshop around the topic on how the new normal in working remotely and distributed can be solved with new services and co-labs, as well as a new approach.
We will also expand the conversation and talk/co-create about both workplace and worklife strategies in a metaverse way, which could include a synchronous environment of the physical world together with computing platforms; VR and AR, PC, mobile devices and game consoles.
With your experience and knowledge, we want to explore the important challenge around how worklife strategies can help to maintain and enhance innovation learning from the challenges from the pandemic.
Agenda:
15.00 Check-in with all participants
15.15 Welcome by Vasakronan and Innovation Pioneers
15.20 Presentation of Arena Sergel
15.30 – 18.00 Case presentation/workshop hosted and facilitated by Vasakronan/Flowpass/Virtway
18.00 – 20.00 Mingle dinner
20.00 End of session
As always we will document the learnings and make it available on our website  and in our newsletter.
If you have any questions, or want to contribute to the session, contact Susanne Fuglsang at susanne.fuglsang@innovationpioneers.net or call +46 70 738 99 97.
HOST
COLLABORATORS