Full documentation can be found and downloaded by members on the MEMBERS section here on the website. For password contact Susanne Fuglsang.
Our 57th Tankmeeting, hosted by RISE Research Institutes of Sweden, was focused on the topic of how to "Stay relevant in a complex world".
Together with the guest lecturer Albert Bengtson from Apple and co-author of "Art of Intrapreneurship from within", Anders Wikström from RISE shared their latest research on how organizations can succeed at increasing their innovation capacity. 
How do we balance innovation, personal, organizational and planetary matters whilst navigating a world that is in the midst of a transformation? How can we equip ourselves to meet and thrive in an unknown future? In order to answer these questions, the day was filled with insights on the latest research and multiple group discussions. 
KEY LEARNING OF THE DAY
Principles to lead and organize for innovation 
RISE presented their research from 18 companies, 2 workshops per company and 3000 survey answers which resulted in a model called "The Model of Innovation Embedment". The model indicates that in order to achieve high innovation embedment within an organization then 1) the innovation goals need to be clear 2) employees need to have a high level of talent or competence and 3) there needs to be a sense of control to achieve the goals. Where organizations typically fail is the implementation phase as well as creating the right sense of psychological safety and freedom for their employees to be innovative. 
How to boost decision-making abilities in a complex world
What is required of us in order to make decisions in different types of situations? Different types of situations and contexts require different decision-making approaches. It is important for management teams to understand what type of situation they are facing so that they can speak a common language. The Cynefin framework can help leadership teams to understand what situation they are facing and reach a consensus on how they need to navigate the situation. On the left side of the model, in chaotic or complex situations, managers need to make decisions without having the answers. Instead, strategies need to grow and mature over time.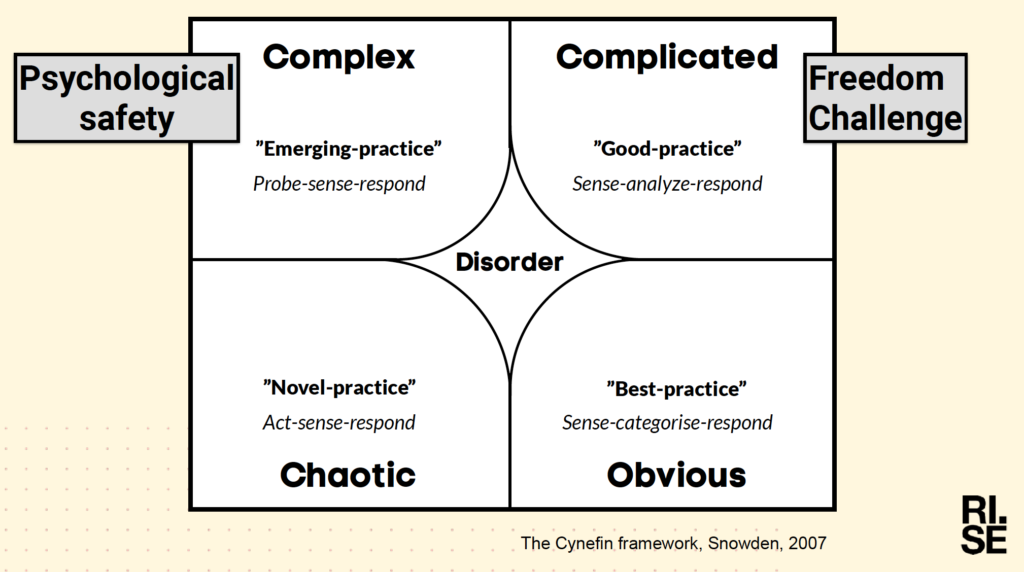 How to boost intrapreneurship through antifragile principles
In nature, we grow stronger in distress. We are antifragile by nature. How can we create organizations that thrive in distress? In order to boost antifragility and intrapreneurship within an organization Albert Bengtson presented three factors: 
Increase collaboration and networking between teams to decrease transmission conflicts

Build organizational support for intrapreneurship 

Recruit and build leadership that can lead in both stable and changing system
How to navigate projects based on context and influence
Albert Bengtson presented a model to help team members understand what type of situation they are facing based on project context (x-axis) and their own level of influence from a company perspective (y-axis). On the right side, you find entrepreneurs and intrapreneurs. On the left side, you find senior management and employees with clear roles who implement decisions from management. These personality types often thrive in different situations and this often creates friction between the different personalities. The model can help understand these dynamics so that you can adapt the communication to the recipients and the type of situation. 
Thank you to Pia Wågberg, Anders Wikström and the team at RISE and Albert Bengtsson for hosting an insightful day filled with many great discussions! As always, thank you to all the members and our invited guests who participated in the discussions and shared their own thoughts on how to increase the innovation capacity within an organization.
We also brought with us some useful models to put into practice to boost innovation in our own workplaces.