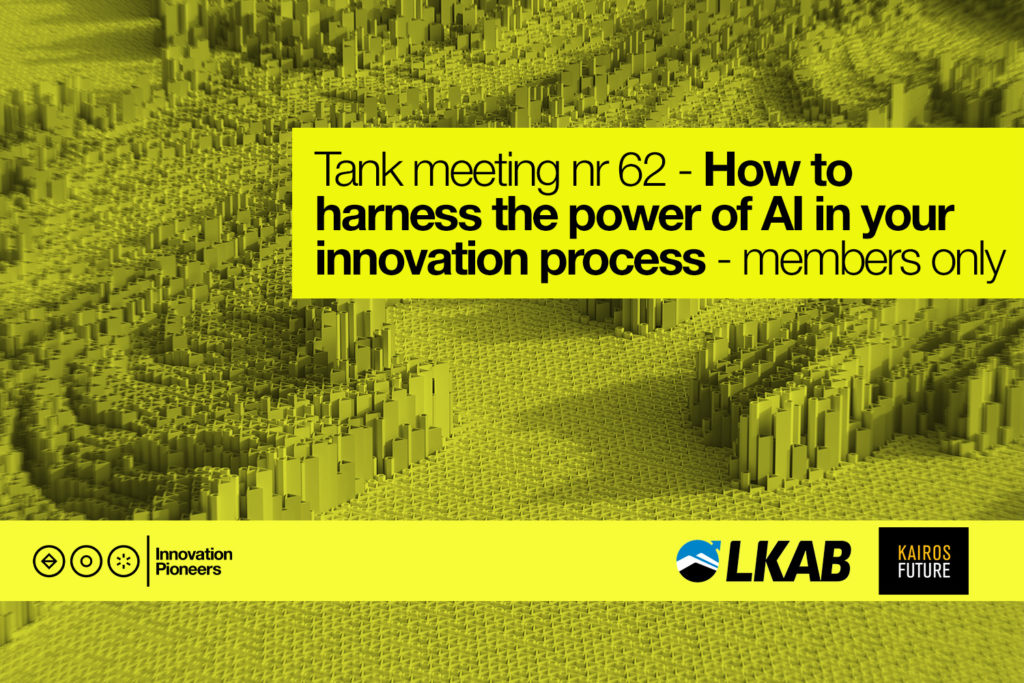 Welcome to Tank meeting nr 62 on May 11th hosted by LKAB and Kairos Future on the theme 'How to harness the power of AI in your innovation process".
(Initiators are also invited to an initiator tank meeting on May 10th, details further down below.)
LKAB has since the start in 1890 been at the forefront of innovation and is today using AI in many different applications. In this workshop we will look towards the future and explore together how to best use the AI of today and tomorrow to address the challenges LKAB is facing.
Kairos Future has for over 30 years inspired us to look into the future and use our insights in developing robust strategies and forefront innovations. In this workshop they will explain the implications of the new applications within generative AI and inspires us to harness the power of the new possibilities in innovations in both customer offerings and internal operations.
Agenda
09:00-09:15 – Welcome to Innovation Pioneers
09:15-10:00 – Introduction by LKAB
10:00-10:30 – Short intro to workshop
10:30-12:00 – Workshop (exploring possibilities for LKAB)
12:00-13:00 – Lunch
13:00-14:15 – Workshop continued (exploring possibilities for the own organization)
14:15-14:45 – Share findings + reflections on how to use the approach in the own AI journey
14:45-15:00 – Final words and next meeting from Innovation Pioneers
DETAILS TANK MEETING
Theme: How to harness the power of AI in your innovation process
Date: May 11th, 2023 (Open for all Innovation Pioneers members)
Time: 09.00-15.00, lunch included. Doors open 8.30am.
Venue: The Lamb, Drottninggatan 71C, Stockholm
As always, we will document the learnings and make it available on our website and in our newsletter.
DETAILS INITIATOR MEETING (the day before)
Date: May 10th, 2023 (Initiators only)
Time: 15.00 – 21:00, dinner included.
Venue: CGI, Franzéngatan 6, Stockholm