The first tank meeting 2017 on the topic Blockchain. The question is not if Blockchain will affect you and your organization. It is, HOW it will affect you. More information here.
20161205-20161205
Prel 15:00-22:00
5/12 Initiators Only –  Initiator board meeting.
Initator meeting Agenda
15:00-16:00
Thule Group: Passion for innovation-driven growth. This was a presentation and dialouge on how Thule changed their Innovation Culture lead by Magnus Welander CEO of Thule Group.
8 take aways from Magnus presentation. Thules Culture Change.
Know your history and tell it.
Use your strengths more. In Thules case. Scale down to be able to scale up.
Be engaged in the world around you and do it passionately.
Dare to pause and look at the future.
Follow favorable trends and take logical leaps in your visions direction.
Capture emotions and build for long term growth.
Dare to invest and dream
Build on continous joy and motivation
Presentation found here.
16:00-19:00
Setting the agenda for Innovation in Action 2017.
19-21:30
Initiator Dinner
20161206-20161206
Prel 08:30-16:15
6/12 Initiators and active members  – Workshop day – Tank Meeting

Together with AstraZeneca we discussed new methods and ways for large and small organizations to collaborate and cooperate.
Find the report from the tank meeting here.
We started with the eight types of Asymmetric Collaboration  – Find Prof. Bengt Järrehults full presentation here. And Bengts how to select partners, deepen your engagement with startups and a summary on how to make asymmetric collaborations deliver on innovation here.
After that we used the BioVentureHub in Mölndal as one example of how to do this.
Find CEO Magnus BJörsnes presentation here.
The Bio Hub is AstraZeneca's contribution to a more dynamic and competitive life science ecosystem in Scandinavia. A new business model of adding value & reducing risks. Our discussion started here and expanded into the participants industries.t the Mölndal site Astra Zeneca opens up their offices, laboratory space and facilities to academic groups and biotech companies that could benefit from AstraZeneca's corporate R&D infrastructure and R&D competence. How does Astra Zeneca align high calibre academic groups to the AstraZeneca strategy, and biotech companies that could gain competitive advantage by tapping into their expertise.
AstraZenecas BioVentureHub lead by CEO Magnus Björsne is a new business model for the life science industry as it adds value by allowing companies and academic groups within the BioVentureHub to operate at a lower cost base, by utilizing the AstraZeneca capabilities, know-how and infrastructure.
There is a huge value base within pharma and the BioVentureHub introduces novel mechanisms for its utilisation. The BioVentureHub business model enables true win-win constructions for all parties involved: the company/academic group, its investors and AstraZeneca.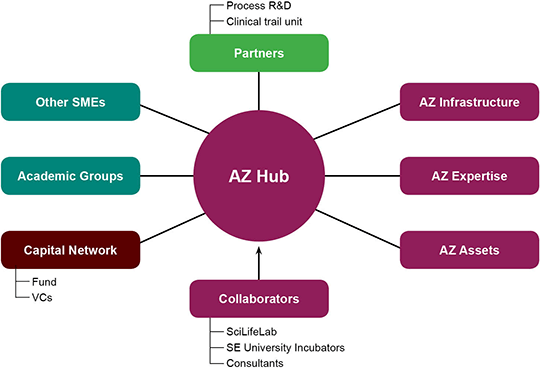 Workshopledare
Magnus Björsne
Bengt Järrehult
Annika Rutgersson
Matti Ahlqvist
Mats Sundgren
Sanja Beyowich
Leif Schweitz