Our solution for longterm innovation knowledge transfer and value through innovation is the network of Innovation Pioneers.
Meet other innovation experts to increase your organisations innovation capabilities.
Share knowledge on specific topics.
Create possibilities for joint projects.
As an initiator you will be a part of setting and affecting the yearly agenda. This gives the opportunity to work with as well as get input and answers to current and important business areas.
Members testify how they verify innovation models that work with others, the faster creation of innovation power and opportunities to collaborate through innovation with non-competing companies both in the same industry and cross other areas.
How much are the above possibilities worth for you, your organisation and the society?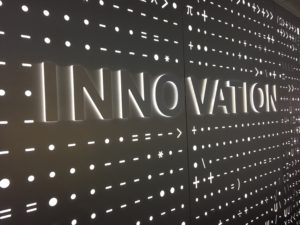 -Together with Swedens large established companies and organisations build an inclusive, knowledge driven community with focus on creating competence, evolving relations and value for all.
– For the individual, the organisation and the community.
For 10 years we have gathered innovation leaders from Swedens established companies in creating value by sharing knowledge between our members.
One of Innovation Pioneers firm beliefs and core values is that innovation is driven by diversity. We aim to have a balance of gender, origin and various industries and organizational forms represented at our meetings. We also strive to give you, your organization and society long lasting value.
Innovation Pioneers is a network founded by innovation leaders and practitioners from a wide cross industrial background as well as organisations, government agencies and municipalities. Innovation Pioneers members work with innovation on both a strategic and operational level. They are leaders and visionaries, practitioners and strategists. They aggregate, produce and develop methods, processes, tools and experiences.
Initiated in 2008, the network's primary annual sharing of knowledge events include Innovation in Action, the two-day action-oriented Innovation event and four single-topic Tank Meetings.
The Network is lead by 15 Initiating organisations that are elected to manage the network. Selected individuals from these companies participate in the continuous development of the network, it's actions and projects. A chairman is elected on a yearly basis, for 2016-2017 it is Niclas Ingeström of Stena.
A few examples of what we have covered are:  Blockchain, Disruptive Scenario Planning, How connectivity can smartify. What the keys for success are in radical projects. How you can manage complexity. How culture beats strategy. Ideation and idea management. Lean discovery, How to sprint from product to service. Exponential thinking and methods for big and small to cooperate.
OUR VISION is to build innovation capabilities through joint development and networking between top representatives from the innovation community.
OUR MISSION is to aggregate, produce and develop methodologies, processes, tools and experiences to enable increased innovation capabilities within the represented organizations as well as for society.
OUR GOAL is to share knowledge, tools and insights around innovation, and thereby contribute to greater effectiveness, better performance and further growth in members' firms.
Through an expanded network of contacts and joint projects, we share information and insights building value for the individuals, our member organisations and society in the long run.
Join us now!
Initiating companies:

Some of our Corporate members: