Innovation Pioneers yearly awards one organization with a cause to change society to the better, the One Wish Award.
At Innovation in Action 2017 in Stockholm, the organization Just Arrived was announced as this years winner.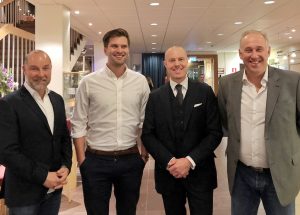 "We are here at Innovation in Action for a few reasons, one being the cocreation and exchange of knowledge.
However this comes in the shadow of what I am about to say.
We all have a responsibility as individuals towards our selves to use the knowledge acquired to create value, as we create value for us we also create value for our organizations but most important of all we do it for the society in the long run.
This brings me to this evenings special occation. The introduction of Innovation Pioneers One Wish Award and this years recipient organization.
First some background on this years process.
A committee led by our chairman selects a short list from all the nominated organizations.
The nominees are then evaluated on the following criteria.
The One Wish Award Winner shall be representative for Innovation Pioneers definition of innovation; people creating and implementing ideas that generate value. This value shall be applied to individuals, organizations and the society in the long run.
The main subject for a nominee is to work for better social and/or environmental circumstances.
The winner shall also aspire to fill our vision in the meaning of building innovation capabilities through joint development and networking.
We are particularly pleased that this year's prize is awarded to Just Arrived. In addition to the contested issue being very immediate and relevant, we have especially fallen for the chosen approach to the solution. Just Arrived has achieved results that differentiate, engage and create value. This is exactly what Innovation is about " says Kim Silvasti during the prize ceremony.
The price was delivered to Andreas König, CEO of Just Arrived, by Kim Silvasti COO of the Innovation Pioneers Network, Jan Sandqvist, Googol and Chairman of Innovation Pioneers Niclas Ingeström.
"We are proud and honored to receive the One wish award. There is an urgent need to address the opportunity and responsibility we all have in creating value for Sweden and its citizens into the future. This is our way of offering organizations in Sweden the possibility to be part of the solution", says Andreas König of Just Arrived.
Our goal now is to introduce Just Arrived into the network and create value together!
Previous One Wish Award winners are:
Nevado Roses, Ecuador
The Hunger Project, USA/Sweden
Index Awards, Denmark
Futebal dá Forca, Sweden
IM´s Project Humanium, Sweden